MDS is the leader in wholesale distribution of industrial janitorial, sanitation products
Helping your small distribution business grow
Master Distribution Services has been a leading Canadian wholesale distributor of Janitorial, Sanitation, Industrial Commercial and Food Service products for over 20 years. Our customer base is predominantly small, independent distributors, although we also service large distribution houses. Drawing from our 7,000-product inventory, we ship to clients coast to coast across Canada.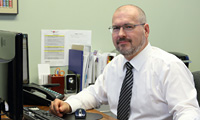 Wholesale you can trust
Master Distribution Services is dedicated to support independent distribution across Canada. Over the past 20 years we have focused on the providing high quality product with reliable customer service and support.
Strong partnerships are essential for sustainable growth. The team at Master Distribution Services is ready to meet your supply chain needs.
Give us a call and we can get started.
David Hay, Owner & President

What do you look for in a wholesaler?
Are you looking to save money in overheads and over stock?
Are you fed up with buying directly from manufacturers? Their slow turn-around times? Their pricing?
The administrative costs of dealing with more than one manufacturer?
If your answer is "YES!" to any of these questions, let's talk!
Provide fast access to your products, at a fair price
Have better knowledge of available inventory and the products you are actually ordering than most manufacturers can provide
Reduce your overhead and over-stock expenses
Save you time and money on administration... Set up an online account with us and use our shopping-cart format to access all of the products you distribute